Dell Slim Soundbar – SB521A
รายละเอียด Dell Slim Soundbar-SB521A :
Tech Specs
General :–
Product Type
Sound bar – for monitor
Speaker System :-
Continuous Power
3.6 Watt
Frequency Response
180 – 20000 Hz
Max Output Level (Max SPL)
89 dB
Additional Features
Magnetic
Speaker System Details:-
Speakers Included
Sound bar – 3.6 Watt – 180 – 20000 Hz – wired
Speaker Details
Sound bar – stereo – 180 – 20000 Hz CFR – active
Driver Details
Sound bar
Connections:-
Connector Type
USB
Supported Operated System
Windows or Mac OS(PC)
Miscellaneous :-
Included Accessories
Security loop, USB cable (0.15m)
Supported Host Device OS
Windows 10 (64-bit), Windows 11 (64-bit)
Dimensions & Weight:-
(W x D x H) 11.7 x 0.7 x 0.9 in
Dimension
Microsoft Teams Certified, Zoom Certified, UC Optimised & Tested
Weight
0.11396508 kg
Manufacturer Warranty :-
Warranty
3 Years
Compatibility Information :-
Designed For
• P2223HC, P2422HA, P2423, P2423D, P2423DE, P2722H, P2723D, P2723DE, P2723QE, P3221DE, P3223QE, P3421WM, P3223DE, P2721Q, P3221D, P3421W, P2222H, P2422H, P2422HE, P2722HE.

• U2723QE, U2723QX, U3023E, U2323QE, U2421E, U2722D, U2722DE, U2422H, U2422HE.
Easy to setup and secure
The Dell Slim Soundbar – SB521A offers easy installation requiring no software, power cord, batteries and is compatible with Dell select monitors. Simply plug in the soundbar cable to your monitor's USB-A port. Safeguard your soundbar by locking it with the included security chain and an external lock (lock not included). A 3-year warranty offers you added peace of mind.
Dell Slim Soundbar – SB521A Data Sheet
The promise of superior audio clarity
With the world's slimmest and lightest soundbar, you get to enjoy rich and crystal-clear audio with powerful 3.6W RMS speakers offering a wide frequency response range of 180Hz to 20kHz. Stay productive and never miss a call or an alert again.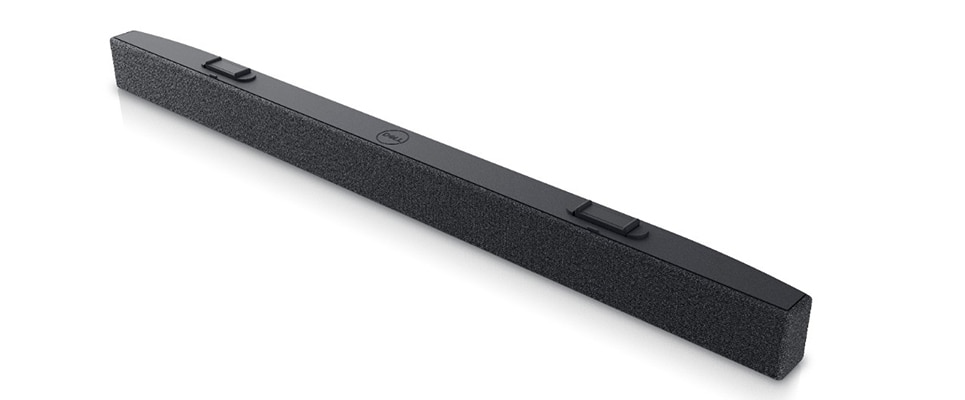 A neat audio solution for your monitor
The soundbar magnetically snaps on to your Dell monitor, allowing you to tilt, swivel and pivot your monitor in any direction, without getting in the way. The soundbar's USB cable plugs neatly to the USB-A port at the back of the monitor, so it's hidden from view.
Dell UltraSharp 24 USB-C Monitor – U2421E
Dell 27 4K USB-C Monitor – P2721Q
Dell 32 USB-C Monitor – P3221D
Dell 34 Curved USB-C Monitor – P3421W
Dell UltraSharp 27 Monitor – U2722D
Dell UltraSharp 27 QHD USB-C Hub Monitor – U2722DE
Dell UltraSharp 24 Monitor – U2422H
Dell Ultrasharp 24 USB-C Hub Monitor – U2422HE
Dell 22 Monitor – P2222H
Dell 24 Monitor – P2422H
Dell 24 USB-C Hub monitor – P2422HE
Dell 27 Monitor – P2722H
Dell 27 USB-C Hub Monitor – P2722HE
What's in the box
Dell Slim Soundbar – SB521A
Security chain
Documentation